SUNDAY - July 10th, 2016
Live Broadcasted on the OWF Network from the 2300 Arena in Philadelphia, Pennsylvania!!!
Opening Bell @ 8:00 PM SHARP
General Admission: $35
Front Row: $40
KIDS SEATS STILL JUST FIVE BUCKS ANYWHERE IN THE ARENA~!
(Must be Accompanied by an Adult.)
Card is subject to change
(OOC: If you aren't booked and want to be, or need to be taken off the card, let Kyra or CW Admin know.)
MAIN EVENT!
ASCENSION CAGE MATCH
The only way to win this match is to ASCEND the cage, and touch the ground outside the cage FIRST!!
For the CARNAGE CHAMPIONSHIP!!!
MELODY LENNOX VS. SABIRU

ASCENSION "X" MATCH
Four Tables will be hanging above the ring in an "X" shape, with the Ultraviolent Championship hanging at the center of that "X". Competitors must use a ladder to get to the tables, and whoever grabs the UV Belt first, WINS!
For the ULTRAVIOLENT CHAMPIONSHIP!!!
MATT STONE VS. LUCAS SILVA

LADDER MATCH


For the TAG TEAM CHAMPIONSHIPS!!!
THE SHOVEL HEADED KILL MACHINE VS. THE HOUSE OF THE HOLY

ULTRAVIOLENT RULES MATCH
Where the only legal weapon is the LADDER


For the BALTIMORE CITY CHAMPIONSHIP!!!
ROBBIE FUTURE VS. CYNDER HENDRICKS

ULTRAVIOLENT RULES MATCH


For NUMBER ONE CONTENDERSHIP to the ULTRAVIOLENT CHAMPIONSHIP!!!
TWEEDER VS. DAZI MIYASHITA

STANDARD RULES MATCH!

MARISOL HAWKES VS. NINA STOKES

OPENING MATCH!


STANDARD RULES!!!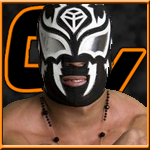 ROBBY BLACK VS. GARBAGE FENCE
0 comments
|
Write Comment